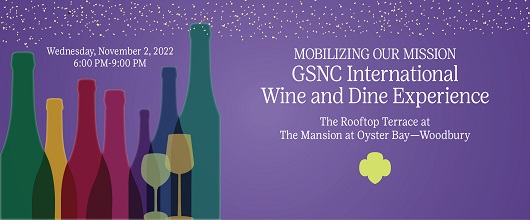 Mobilizing Our Mission
For more than a century, Girl Scouts has championed changemakers, building girls of courage, confidence, and character who make the world a better place. At Girl Scouts of Nassau County (GSNC), we believe in every girl's potential to meet today's problems with bold solutions to create a better, brighter tomorrow for her community and the world.
Last fall, GSNC officially announced its plan to take Girl Scout activities and staff directly to our girls and families with the proud unveiling of our Traveling Trefoil van. Looking ahead, GSNC will continue to "Mobilize our Mission" to bring access and engagement to more girls by expanding the Girl Scout Leadership Experience into community centers, parks, school yards, and other public spaces.

Right now, the power of Girl Scouting has never been more crucial. Help us champion Girl Scouts by supporting the expansion of our GSNC mobile programming efforts.
Please support us in helping to bring Girl Scouting to every girl in our community.

Mobilizing our Mission
International Wine and Dine Experience
Rooftop Terrace at The Mansion at Oyster Bay, Woodbury, NY
Wednesday, November 2, 2022
6:00 PM – 9:00 PM
Event Details

Rooftop Terrace at The Mansion at Oyster Bay, Woodbury, NY
Wednesday, November 2, 2022
6:00 PM – 9:00 PM

Sponsorship Details

Vision Underwriter $45,000
Help expand the impact of Girl Scouting throughout Nassau
County communities to create opportunities for access and
engagement for all girls by supporting both our GSNC Fall
2022 and Spring 2023 events. For each event:
Includes:

Twenty-five (25) VIP guest tickets
Sponsor Name/Logo spotlighted (at event, website, display monitors, social media etc.)

Premier Mission Underwriter $25,000
Assist in generating awareness and cultural competency across
all council areas to ensure the Girl Scout mission to make the
world a better place reaches ALL Nassau County girls.
Includes:

Twenty-five (25) VIP guest tickets
Sponsor Name/Logo spotlighted (at event, website, display monitors, social media etc.)

Champion Underwriter $15,000
Be a champion for all girls to enable their sense of belonging,
inclusiveness and future generational impact by participating
in the Girl Scout Leadership Experience.
Includes:

Fifteen (15) guest tickets
Sponsor Name/Logo spotlighted
(at event, website, display monitors, social media etc.)

Community Underwriter $10,000
Create opportunities to improve family and community
partner engagement to ensure GSNC provides enriching
program experiences for girls.
Includes:

Ten (10) guest tickets
Sponsor Name/Logo spotlighted (at event, website, display monitors, social media etc.)

Media Partner Sponsorship $7,500
Be a champion to help promote the Girl Scout Leadership
Experience throughout Nassau County.
Includes:

Seven (7) guest tickets

Sponsor Name/Logo spotlighted (at event, website, display monitors, social media etc.)

Ambassador Sponsorship $5,000
Help support internal systems to ensure easier retention,
renewal opportunities, and sustainable measures for our
Girl Scout membership.
Includes:

Five (5) guest tickets

Sponsor Name/Logo spotlighted (at event, website, display monitors, social media etc.)

Daisy Sponsorship $2,500
Help GSNC attract new Girl Scout members to best represent all
Nassau County demographics.
Includes:

Two (2) guest tickets

Sponsor Name/Logo on Website