Gold Award Girl Scouts
Issues of the world, meet your match. 

Gold Award Girl Scouts are the dreamers and the doers who take "make the world a better place" to the next level.
The Girl Scout Gold Award is the mark of the truly remarkable—proof that not only can she make a difference, but that she already has.
Seniors and Ambassadors who earn the Gold Award tackle issues that are dear to them and drive lasting change in their communities and beyond. Think of the Gold Award as a key that can open doors to scholarships, preferred admission tracks for college, and amazing career opportunities.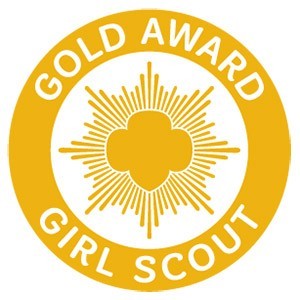 You can pursue your Girl Scout Gold Award if:
 

You're in high school (ninth through twelfth grade, or equivalent) 
 

You're registered as a Girl Scout Senior or Girl Scout Ambassador
 

You have completed two Senior or Ambassador Journeys OR earned the Girl Scout Silver Award and completed a Journey
 
Girl Scout Gold Award Steps


Investigate your issue thoroughly
 

Get help and build your team
 


Present your plan and gather feedback 
 


GSNC's Gold Award Process

Your Guide to Going Gold (Mandatory)

Your Guide to Going Gold will be your go-to resource. It aligns with the GoGold portal and answers many questions you might have. You are required to sign page 28 to show you have read it and submit it when going for Gold!

Download the Your Guide to Going Gold

 

Gold Award Training

Highly recommended for Girl Scouts working toward the Gold Award and their champions. Those who attend a Gold Award Training will learn the award guidelines, what it means to do a Take Action project, important deadlines, the approval process, and what the Gold Award interview will be like.


GoGold

The online portal to submit your Girl Scout Gold Award project proposal.

Adult Guide for the Gold Award

Whether you're a troop, volunteer, girl chamption, or a project advisor, your role is to encourage Girl Scout Seniors and Ambassadors to think critically, be open to multiple perspectives, investigate thoroughly, and identify resources within and beyond their local communities. You are supporting girls as they develop into leaders for today and tomorrow.

Guidelines for Funding Gold Award Projects

GSNC's Guidelines for Funding a Gold Award Project provides the necessary information, guidelines, and frequently asked questions (FAQs) on funding a Girl Scout Gold Award Project in Nassau County.

Scholarship Opportunities

Virginia A. Wills Girl Scout Gold Award Scholarship

Virginia A. Wills loved being a Girl Scout and would rather have been doing activities with her troop than anything else. She wanted girls to see all the possibilities that were available to them, and show them how important service was by always helping people in need.

Award: $1,000
Deadline: TBD

 

Go for Gold Tips from Gold Award Girl Scouts

Important Gold Award Deadlines

High School Freshmen, Sophomore, and Juniors: Gold Award proposals are accepted 365 days a year

High School Seniors Only: Proposal submission deadline May 1 of their senior year


This will enable HS Seniors to go through the approval process (3-5 weeks) and complete a quality Gold Award project.
Gold Award proposals will still be reviewed in the order they are received. High school seniors will not receive priority. That being said, we strongly recommend that high school seniors not wait for this deadline, and submit your proposal in a timely fashion.
If a high school senior submits proposal after January 1, they will not be eligible to be in the current Gold Award class, but will be a part of the following years' class.
We can write letters explaining you are indeed a Gold Award Girl Scout, but are just waiting to be honored.



Important Deadlines for Completion of Gold Award Projects

March 31: Projects need to be complete and final paperwork received by GSNC to be in the current year's Gold Award Ceremony.

High School Seniors Only: September 30 after high school graduation: Completed project and all final paperwork due. You will be invited to the following year's ceremony.


 

Higher Awards Office Hours

NEW! Bronze, Silver, and Gold Office Hours

Once you have read Your Guide to Going Gold, Silver, or Bronze Toolkits and have watched the training videos, you can sign up for a time slot to have your questions answered.