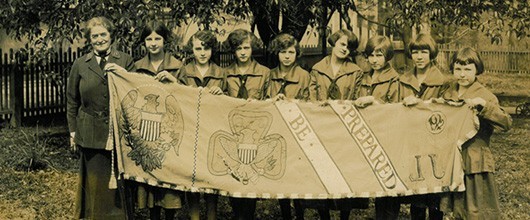 Our History
Juliette Gordon Low had a dream.
When she brought that first group of girls together in Savannah, Georgia in early March 1912, she wanted them to explore new possibilities and the wonders of the world around them—and she wanted them to do it together.
Along with Juliette Gordon Low—also known as Daisy, these first Girl Scouts blazed trails and redefined what was possible for themselves—and for girls everywhere. They played basketball. They hiked, swam, and they camped. They learned to tell time by the stars. But most importantly, they shared a sense of adventure and a belief that they could do anything. And just like Girl Scouts do across the country and around the world today, they offered a helping hand to those in need and worked together to make their corner of the world a better place. 
Over the past century, Daisy's small circle of girls has grown to include more than 59 million Girl Scout alumnae—united across distance and decades by lifelong friendships, shared adventures, and the desire to do big things to make the world a better place. 
Around 1918, a few girls in Nassau County heard about a new organization just for girls. The girls checked into it as something that might be fun for them to do. It seemed to offer everything. They could wear special clothes, learn skills and use their old skills in new ways. Thus, the first Girl Scout Troops were formed in Nassau County, becoming an early part of what would become a worldwide youth movement. Between 1924 and 1926, the Nassau County Council officially formed, with North Nassau Council, Central Nassau Council, South Nassau Council, and Mid Island Council following years later. By 1977, all the councils merged into one, council… Nassau Council Girl Scouts (today called Girl Scouts of Nassau County, Inc.). Read more about the history of Girl Scouts of Nassau County in our history book.

Read more about Juliette Gordon Low and Girl Scout history.
Are you interested in working with our Council Historians on sharing Girl Scout history with our girls and the community? Contact Donna Rivera-Downey.

"Truly, ours is circle of friendships, united by our ideals." 
— Juliette Gordon Low