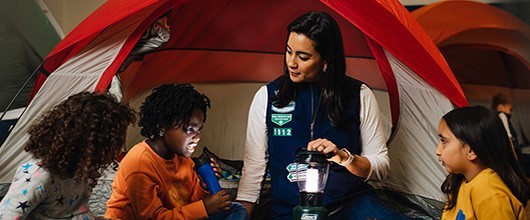 New friends. New adventures. The best is yet to come! Shine bright with Girl Scouts and discover a whole new world of possibilities! 

Do you have a Pre K, kindergarten or first-grade daughter who wants to be a Girl Scout Daisy? Join us for an information session in your area where we'll provide you with details on how your girl can become a part of the largest girl-led organization in the world!

Continue >

Calling all Girl Scout Alum and friends! Come catch up with old friends, and meet some new friends at our FIRST EVER Girl Scout Alum Takeover event on Thursday, May 4, 2023 at 6:00pm at Il Pozzo in Lynbrook. If you are 21 or older, come out and enjoy a night full of laughs, prizes, trivia, and food.  
Continue >



12 Dec 2022
The Girl Scouts of Nassau County Service Center will close Friday, December 23, 2022 at 1:00 PM, and will reopen at 9:00 AM on Tuesday, January 3, 2023. Girl Scouts of Nassau County will continue to accept charitable gifts over the holiday period.

Girl Scouts of Nassau County Receives $1.8 Million Donation from MacKenzie Scott
18 Oct 2022
Girl Scouts of Nassau County announced today that it has received a $1.8 million donation from philanthropist MacKenzie Scott. Through this generous donation, Girl Scouts of Nassau County will accelerate programming designed to equip girls with the tools to become the next generation of powerful leaders, create new programmatic opportunities, encourage access for new communities, improve cultural competency and think outside-the-box to create new ways to meet the needs of today's girls. This generous gift is part of an $84.5 million donation awarded to GSUSA and 29 local councils selected by MacKenzie Scott, making this unprecedented investment the largest donation from a single individual in the national organization's history.

Girl Scouts "Go Bright Ahead" with a MAG-nificent Program
30 Sep 2022
Girls across Nassau County are excited and prepared to learn financial skills while selling delicious treats as Girl Scouts of Nassau County (GSNC) launches its annual Mags&Munchies program from September 30 through November 6. Each year, Mags&Munchies gives Girl Scouts of all ages the opportunity to sell magazines, assorted snacks, and collectible tins full of tasty treats to help them learn business skills and become entrepreneurial experts ahead of the Girl Scout Cookie Season.